19 Sep

Exclusive Q&A: Rapsody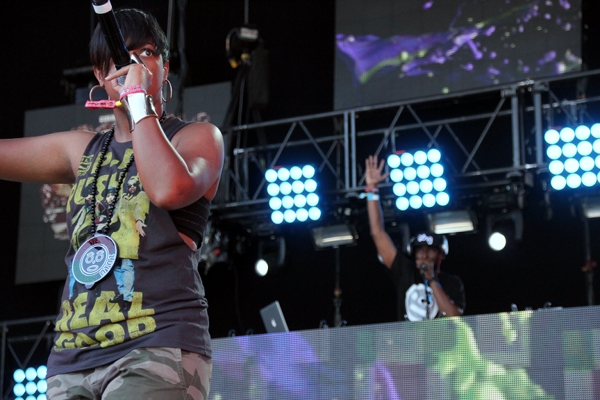 Current industry politics within Hip-Hop has made it increasingly difficult for MCs having two x chromosomes to prosper at greater numbers. One of the few women that's been given wholesome respect on par with male peers is non other than Snow Hill, N.C. native Rapsody.
How far does that respect go?
She's found herself collaborating with some of Hip-Hop's greatest including Kendrick Lamar, Mac Miller, Big K.R.I.T., Raekwon and Wale. Plus, she's done it by being 100 percent herself. This is the same MC that proclaimed "We can't afford Maybach, we in Accords."
Rapsody has come a long way from co-founding Hip-Hop collective Kooley High to being one of the brightest MCs to come from 9th Wonder's Jamla Records imprint. 2012 even saw Ms. Evans (first name Marlanna) release two critically acclaimed projects through The Black Mamba EP and full length debut The Idea of Beautiful. 
Now that she's solidified herself a spot on the table of rap's elite lyricist, Rapsody has decided to pull in bigger muscle with the Gangsta Grillz presented She Got Game hosted by DJ Drama. Starting with her debut mixtape Return of the B-Girl in 2010, Rapsody has continued to evolve and Wale assisted single for She Got Game "Dark Knight," she isn't stopping anytime soon.
Rapsody took time to speak with me about her upcoming project with DJ Drama She Got Game and some of her biggest fan moments.  
Your debut Idea of Beautiful was released almost a year ago. What are your feelings on how it turned out now as opposed to them during its release?
"When it was released; you know all artists want their first album to be special and to be classic. I didn't know how people would receive it because at that time before it came out, I think people didn't know where to put me. People asked questions like if I was going to make a good album or was it going to stand the test of time. I think that album just made a statement and showed my potential as an artist. It really gave me a lot more confidence and I have a place in this. I'm no different from the guys and I can compete with them in a fun way. It's given me confidence and allowed me to focus even more.
Where does She Got Game put you as an artists?
"I'm really, really excited about this one you know. I always told people that with every project, at the very least if I can grow from the last time I put something out then its a win for me. With this one I definitely think I've grown and matured in a lot more areas than Idea of Beautiful and I love this project This one was fun because I got in there and got to work with a lot of artists I'm fans of from Raekwon to some of my peers like Ab-Soul and Wale who's on the "Dark Knight" track. This one has no real concept but is me just having fun and just really going in and spitting and trying to make dope joints. 9th came up with the title. We were talking about the next project and he was like why don't you call it "She Got Game." I was like that's dope to play off the movie. What it means to me is so much because we are so underrepresented as females in this industry. You know we get so boxed in a lot. I've come to really not like the term female rapper because it boxes you in so much, with this one I wanted to be seen as equal as an MC; that I have a place in the same category as boys.  Women are just as skillful in rhyming; it's not like basketball where the physical makeup is different. For music, everyone has an even playing field in which to be great at what they do aside from gender, race, religion or whatever have you.
Why a free project rather than making it available solely for purchase?
"Because The Idea of Beautiful did so well, we were going to reintroduce some of my old songs and things to new fans. It was suppose to be in the vein of Separate But Equal which was the project Gangsta Grillz did with Little Brother. There were going to be some older songs sprinkled with a few new songs but the way it just played out. I had so many songs to choose from and I worked with so many incredible artist that I didn't want to hold that back. Seeing that we already had DJ Drama hosting it, we couldn't sell it if that makes sense. So why not put out this good music. I didn't not want to put it out because I wanted to sell it. It's to put it out there and just keep the buzz going. It's about between 16 and 18 tracks. It was originally suppose to be 13 tracks and I record around 30 songs. We had a really hard time chopping that down. That was the main reason for not selling. I hope it's well received enough that I can tour off of it.
Talk about Drama's involvement for a moment.
"One I have a lot of respect for him. The tapes that he does and artists that he breaks shows that he's a supporter of good music.  He's a fan. I love Drama so I was excited at the opportunity. He himself has a fan-base that I don't necessarily reach all the time. I respect what he's done for the game. I met him two or three times and he's always shown love so why not?"
Feature wise She Got Game has everyone from Ab-Soul and Mac Miller to Raekwon. Was that your way of flexing your muscle as an artists?
"It wasn't a muscle flexing thing at all because just being in the game so long from Return of The B Girl, I've been able to work with so many artists. A lot of people think when you work with another artist it's like oh this artist is going to propel you here and that's never the case. You as an artist have to make your own statement and build from that at the end of the day. So it's never a flexing of the muscle thing or trying to steal fans or that nature. I like working with artists, especially those that I'm a fan of. Everybody who is on this tape, I am a fan of. It's just better to make something dope with someone who is as creative as you are. That's all it was for me. It wasn't me reaching out to everyone, it all just fell into place.  The Chance The Rapper feature came from him being on tour with Mac[Miller] and they both did their verses on the same weekend. They come through here and 9th is the king of North Carolina so they came to see us and knocked it out. As far as me and Wale, I met him around 2008- 2009. Him and 9th were working on Back To The Feature project. When they were working on that Wale came down and stayed for about a week. I've known him since then; great guy, great heart and phenomenally gifted. I've always wanted to work with him. One day I was doing a song and said that Wale should get on this track so I hit him up on Twitter directly. I was like man I know you busy but you want to be on this song and he was like sure send it to me. Every time I see him, he gives me advice and shows love. The Raekwon track came together because there was a song called "Coconut Oil" that was originally meant for The Idea of Beautiful but timing between us two didn't work out so we just held on to it for the tape. I love working with Ab-Soul. I'll never get tired of working with Ab-Soul, he's just phenomenal. I've always wanted to work with Nipsey [Hussle]. It's just me and friends working on some joints." 
You mentioned the expansion of your fan base. What's been the best fan moment so far for you?
I mean they're all special for different reasons. One would be when I went to South Africa a year ago last August. It was probably a few weeks before Idea of Beautiful came out and we did a show over there. The love from everybody in a whole different country is beyond mind-blowing. The love I got there outweighed the love I even get in my home state. That whole concept is crazy. There was one girl in particular, I don't know her name but I could recognize her face if I saw it. I was going to soundcheck at the venue where we performed at and she gave me a hug then cried. Just to know you touched somebody like that can't describe what that means and feels like. I hate the term female rapper but I also accept the responsibility of what I represent to women, seeing how much we're underrepresented in the industry. That impact alone is enough. Even people that I don't meet face-to-face but on Twitter. They'll say how their daughters look up to me and how they can play my music for inspiration is what I get out of it. Outside of loving what I do and having a passion for it, I wanted to inspire little girls. When I was growing up, I had Lauryn[Hill], MC Lyte, Bahamadia, Queen Latifah; you name them in the 90s. Now, it's not so balanced. You don't have different examples of what being a women is, what sexy is or what being beautiful is. There was a time where you had so much to choose from but now its one here and there. I just wanted to be something else to add to the balance and do something different.
She Got Game is available for download and purchase (non DJ version) now.